Stuart Thomas Needlecases
www.StuartThomasStudios.co.uk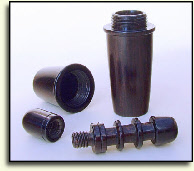 Needlecases.
(Click any image for a larger view).
"The woods I use have been specially chosen for their suitability for turning screw threads. They need to be hardwoods with a close, short-grained density. I have selected three beautiful woods of the highest quality, African Blackwood, English Boxwood and Mexican Cocobola Rosewood. "
Every needlecase will be presented in a velour pouch and will have a certificate showing the style name, the name of the wood and when it was bought. Each certificate will be signed by Stuart.
The Sian Needlecase.
The mother of all Needlecases, as given to sons or husbands during the war.
The top is a thimble and inside the body of the case is a bobbin. This has its own screw top which reveals the needle space. A complete sewing kit in one neat package.
Size approximately 3" x 1" diameter.
Price: £30.
The Gwen Needlecase.
My mother's name.
Lovely to hold. When not in use during needlework just use it to run your fingers over. Very relaxing.
Size approximately 3" x 3/4" diameter.
Price: £15.
The Olwen Needlecase.
Ideal for the workbox to keep those larger needles safe.
A really classic design.
Size approximately 3 ¼ " x 1 1/8" diameter
Price: £18.
The Eirlys Needlecase.
A very ornate needlecase which also makes a lovely display piece, especially with a mother of pearl inlay.
Size approximately 3" x 7/8" diameter.
Price: £15.
With real mother of pearl inlay add £2.50.
The Mair Needlecase.
A traditional style needlecase easily slipped into your pocket or bag.
With its screw threaded top there is no fear of the needles falling out.
Size approximately 3" x 3/4".diameter.
Price: £12.50.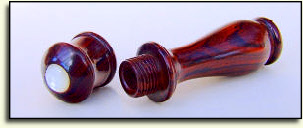 The Eirlys Needlecase with Mother of Pearl inlay.
(Rosewood)